Discussion Starter
·
#1
·
Hello guys just thought I would start a thread with a few pics of my stock Foreman except for the winch that I just bought from a friend of mine. It only has about 75 hours so it is in fairly good condition. I am fairly new to this sport and I have throughly enjoyed it so far and I look forward to learning and experiencing more as time and opportunity allows. I had a 00 Rancher 350ES but unfortunately it was 2wd so obviously I was excited to get the Foreman of course if for nothing else the 4wd. I will be doing a few things to this machine as time goes on. I am planning on doing the following mods real soon so feel free to share any ideas that you may have.
26" Maxxis Bighorns or GBC Dirt Devil II
ITP SS108 wheels
Perfex Long Travel Suspension
Amsteel Blue Synthetic Winch Line for the Superwinch
Floorboards? (any suggestions )
I mostly ride trails and really don't get in any deep mud so I figured one of the above mentioned tires would work well for this application on the Foreman. Once again please feel free to share any and all ideas that you may have. Well, on to the pics (as if you all dodn't already know what a stock Foreman looks like) ..........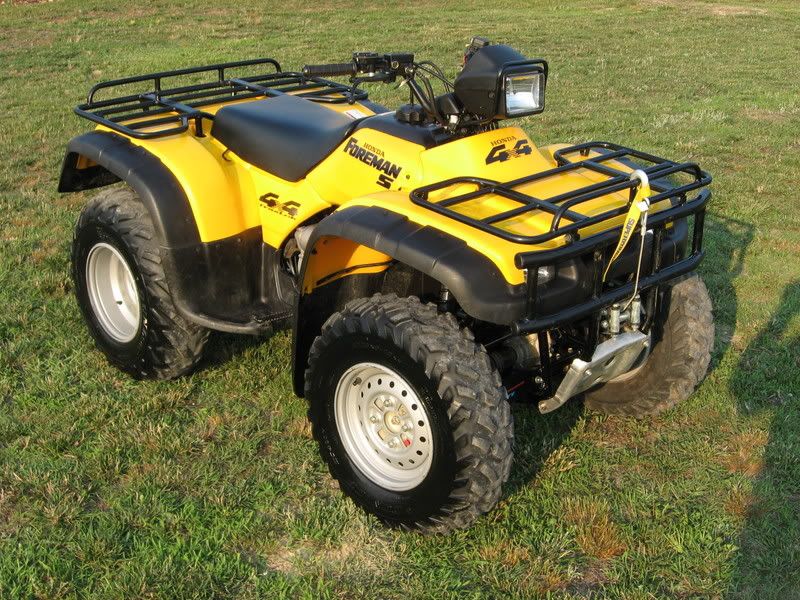 Thanks for any and all advice!