Honda Rider
Join Date: Jul 2010
Posts: 6
05 rubicon 500 running rough
---
I have a 05 rubicon 500 that will idle. When in neutral you rev the motor it does not miss but acts like it is governed out and i am not holding it wide open just reving it to half throttle. When i put it in reverse it will wind out and go with no problems. When i try to drive it forward in any of the electronic shift settings it will give me the governed out sputter like in neutral. I also have a 06 and changed ecm's with no change to 06 or 05. The 06 ran and drove good before and after the switch. I did unhook both batteries before changing them. Looking for ideas. I am leaning toward angle sensor but am looking for advice. I did do self diagnostic and i get 5 flashes.
---
Last edited by jasonwis; 07-17-2010 at

08:31 PM

.
to the forum.
Im not sure about the 5 flashes. Someone will chime in and tell you soon.
By the way you discribe the issue, sound like the angle sensor would be something to look at first.
---
03 Foreman ES
Too much to list...
Honda Rider
Join Date: Jul 2010
Posts: 6
thanks for the response. Have you ever changed a angle sensor before? How do you preload it?
I know if the shift lever is out of adjustment it can make it sound like its hitting a rev limiter. My Rubicon did this because it wasn't going into gear fully. You can test this by easing the shifter up or down around drive while testing the throttle. If this fixes your problem there is an adjustment below the shift lever.
Administrator
Join Date: Aug 2007
Location: south dakota
Posts: 12,402
Welcome to the forum.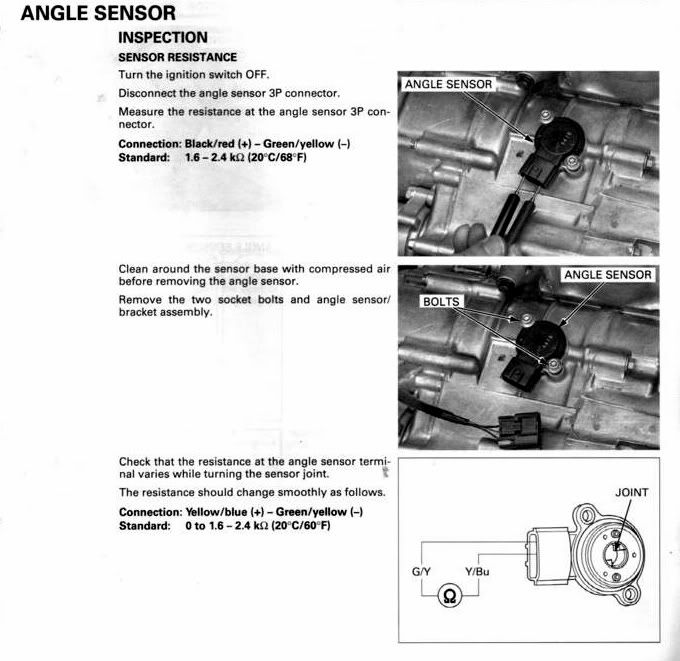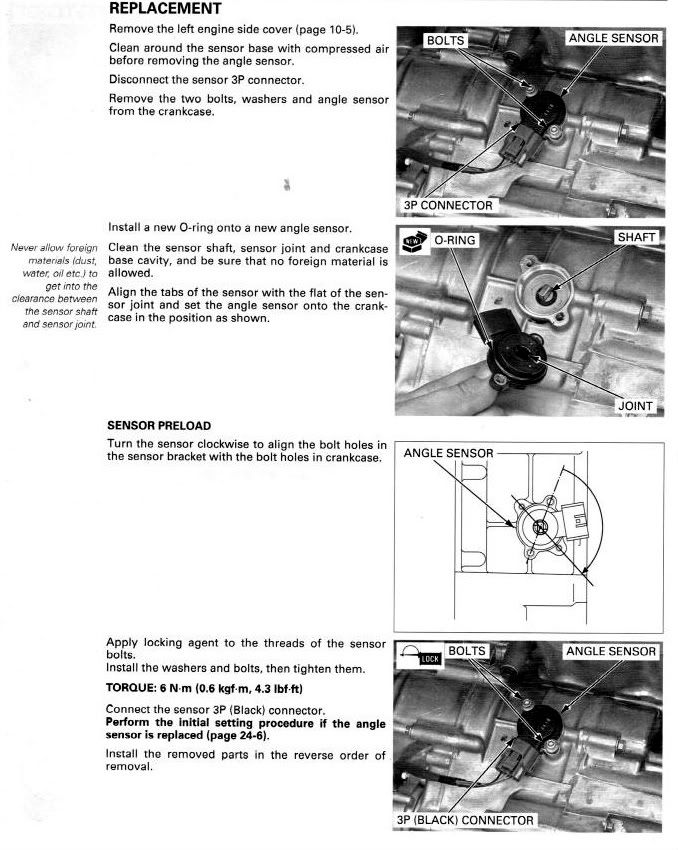 Toodeep has all the cool gagdets.
---
03 Foreman ES
Too much to list...
Honda Rider
Join Date: Jul 2010
Posts: 6
thanks for the advice. I will be home on sunday to try those things out. just wondering if you guys had any more ideas? thanks again
if you look at the top of the treads (posts) you will see Sticky:
01+ 500FA code retrieval procedure/list
It says that 5 flashes is angle sensor. Toodeep is a Honda dealer and a mechanic. listen to the wise man, he really knows his **** (can i say **** on here?).
Honda Rider
Join Date: Jul 2010
Posts: 6
I am finaly giving a update. I changed the angle sensor- no change. I reset the ecm(i could hear the shifting motor reset) and preloaded the sensor. I checked the shifting lever that was sugested - no change. I swapped out the ecm with another machine and reset it with no change. I know have 6 flashes for self dignostics. please help thanks in advance.