Honda Rider
Join Date: Feb 2012
Posts: 3
Another Rancher ES Shifting Problem
---
I've searched the forum and could not find anyone who has had my exact problem so I thought I would ask.

I have a 2004 rancher with 378 miles, thing is like new. When you shift it into first gear with the electric shift, the display will show "1" and then "--" and the rancher will not move. If I give it some gas and continue to press the upshift button it will eventually take gear and stay in for a while, but it usually slips into neutral when I let off of the gas. When am moving along sometimes I can shift into second and third but I have to shift several times to get it to stay in gear. I have not been able to get past third gear. Downshifts with electric shifter and always goes into reverse. There is no grinding of any sort.

It does the exact same thing with the back up manual shifter.

I pulled the front cover off. Everything looks good the best I can tell. Shift plate looks good, shift drum star doesn't have any broken ears. Does anyone have a clue about what else I can check next? Not sure if it is normal but it looks like the outer centrifugal clutch has been hot at some point as it is discolored in places.

Thanks in advance.
Honda Red Wing Rider
Join Date: Aug 2009
Location: SW, Pennsylvania
Posts: 7,994
Wonder if you have a bad shift angle sensor? That same thing happened to my buddies but he never tried it with the foot shifter. I know that fixed his problem though.
---
08 Rubicon
02 CR250 73 MiniTrail 69 MiniTrail
Administrator
Join Date: Aug 2007
Location: south dakota
Posts: 12,364
Welcome, the clutch drum color is normal. Check the shift plate really close for a crack. Try shifting it with the tool and watch the stuff to see what it is doing. If you just have a crack it should be more noticeable when pressure is on it.
Here is one that is broke...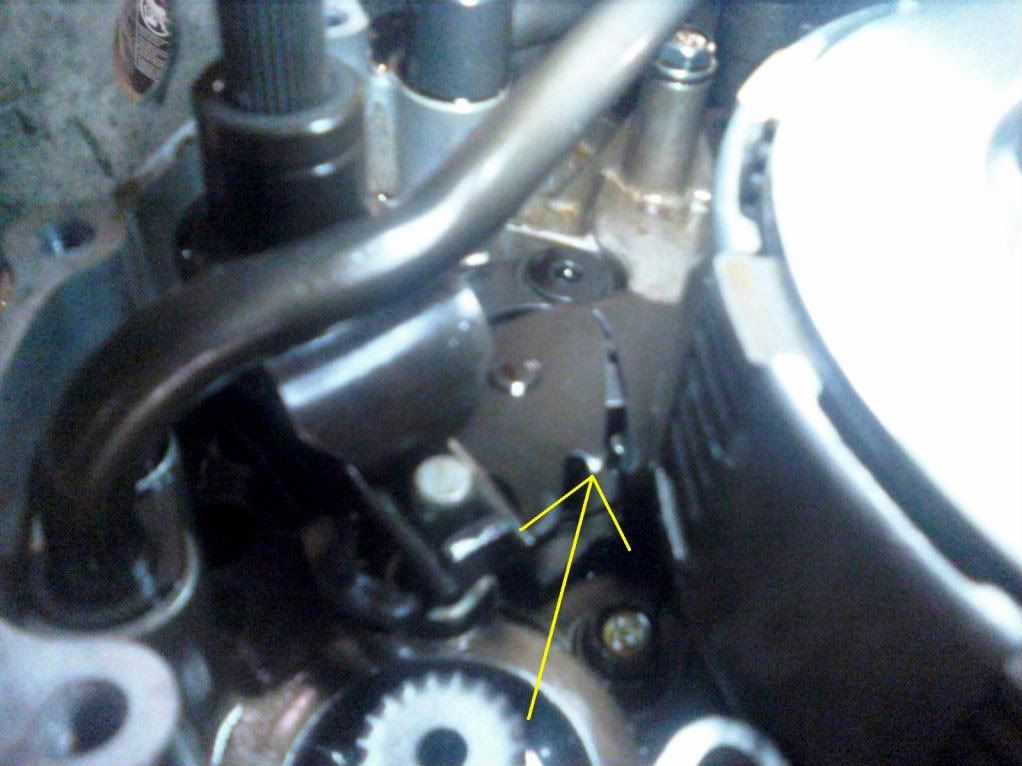 ---
2007 420FM (475cc, 27x12x12 Mudbugs) ---------- 1995 300FW (webcamshaft, 350 rear end)
2008 420FE (26x9x12 BearClaws) ------------------- 1988 300 (old stock machine, nothing fancy)
2009 420FA (25x8/10x12 BearClaw HTR) --------- 1987 350D (work in progress)


welcome to the forum !
---
2000 foreman 450 es-s
the f**king pig
SOLD
yellow 2003Rubicon all stock and gona stay that way !!!!
red 2000 foreman 450es
1990 Honda 300 4x4 blue stock with plow
friend me on facebook
https://www.facebook.com/richard.chayer.5
i love (.)(.)s
Honda Rider
Join Date: Feb 2012
Posts: 3
I thought about the angle sensor, but since it did the same thing with the manual shifter I started looking at the mechanical part of it. I put pressure on the shift plate with the manual shifter and I didn't see any separation. Could the shift plate be worn so much that it will not function properly? I wouldn't think that with 378 miles this would be the case but who knows.

The only thing about the shift plate that I see at all is that there is a polished edge on two parts of the shift plate. Now since I have never seen a shift plate before this one I can't 100% say that this one is fine, but it is not what I would expect to see from the plate fracturing. That and I have not seen any broken pieces floating around in the case.

It is just odd to me that when you give it more throttle it seems to shift better. I have already adjusted the clutches.
Honda Rider
Join Date: Feb 2012
Posts: 3
Figured out the problem. The arm that holds the shift drum center(the star shaped piece on the shift drum) in place once a shift has been made, has a bolt that holds it in place. The bolt was loose. Tightened it up and all seems to be working like it should. This explains why it would not hold a gear.
glad you got it fixed ....and cheep too lol
---
2000 foreman 450 es-s
the f**king pig
SOLD
yellow 2003Rubicon all stock and gona stay that way !!!!
red 2000 foreman 450es
1990 Honda 300 4x4 blue stock with plow
friend me on facebook
https://www.facebook.com/richard.chayer.5
i love (.)(.)s
that must have been a good feeling!!!! welcome to the forum
---
2012 FOREMAN 500 ES
27 INCH ZILLA'S
ITP SS212'S ALL BLACK WHEELS
1.5 INCH STI ALUMINUM WHEEL SPACERS
BIG GUN EXHAUST
TWIN AIR FILTER, K&N OIL FILTER
ALUMINUM PRODUCTS SKID PLATE
POWERMADD STAR SERIES HANDGUARDS
MOOSE OZARK REAR BAG
4 INCH PVC STORAGE COMPARTMENT