Honda Rider
Join Date: Jan 2010
Posts: 2
Help GUYS! I have a rancher 420 that starts up, runs for a little while and then kills. We have fuel coming from the tank. But when we disconnect the line from the throttle body and turn the key on, we can hear the fuel injector pump running but no fuel comes from line. Also, does anyone know if there is a special tool to disconnect the fuel line from the fuel pump or throttle body.
Administrator
Join Date: Aug 2007
Location: south dakota
Posts: 12,401
---
2007 420FM (475cc, 27x12x12 Mudbugs) ---------- 1995 300FW (webcamshaft, 350 rear end)
2008 420FE (26x9x12 BearClaws) ------------------- 1988 300 (old stock machine, nothing fancy)
2009 420FA (25x8/10x12 BearClaw HTR) --------- 1987 350D (work in progress)


Honda Rider
Join Date: Jan 2010
Posts: 2
Do you know if there is a tool to disconnect the fuel line? I am having a time trying to disconnect it.
4QUOTE (toodeep @ Jan 31 2010, 09:14 PM)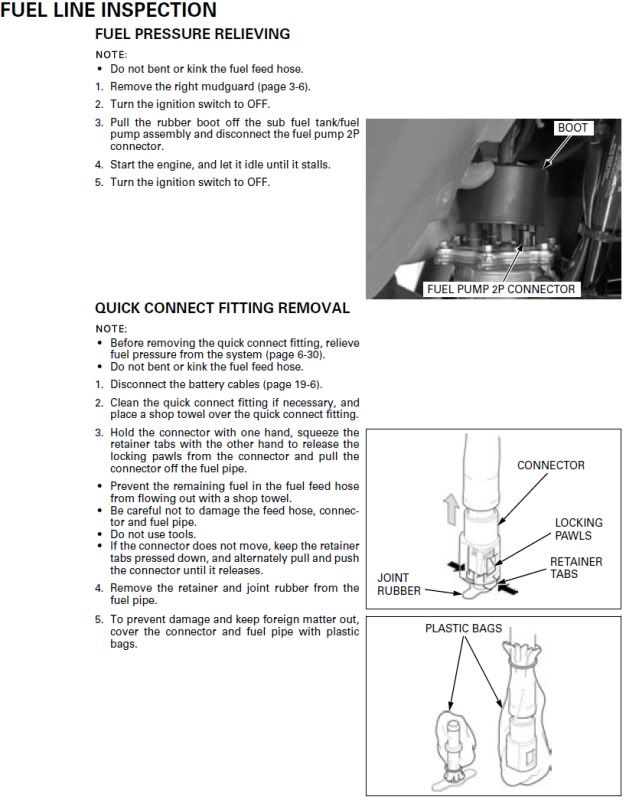 ---
'87 TRX70
'03 TRX90
'03 TRX350FM
'08 TRX420FM - Warn XT25, 25" Mud Bugs, Moose hand/thumb warmers
You are technically supposed to replace the internals of that coupler when you have it off.

Toodeep is likely correct on this one. Also, make sure it isn't something silly like the fuel tank vent line is kinked/clogged.

How long will it run on start up?
---
'87 TRX70
'03 TRX90
'03 TRX350FM
'08 TRX420FM - Warn XT25, 25" Mud Bugs, Moose hand/thumb warmers