can i raise my pod light
---
I know i have see this in a post before but i can't seem to find it .has any else raised your 450 pod light .
I want to run a 2"snorkel up the left finder and down the side of my split audio tube .but when the handle bars are turned all the way left the pod light would hit it.also raising it might let some light over the audio tubes when turning.
How much can one be raised without rewiring?is there a kit or is each one custom?
---
2003 foreman 450
26" itp 589's
high lifter springs
2" snorkel
145 jet
pos pipe
terra 3500 super winch syn rope
rear rack ammo cans and cooler
front rack 4 speaker sound system

1997 Kodiak 400
26" Mudlites

1988 Fourtrax 300 2x4
25" Triclaws
engine has never been worked on
I have seen a kit made for the 450's, cant remember who made it though.
---
2006 Foreman 4x4 500s
Powermadd handguards
2.5 Warn winch
2" Perfex long travel lift kit
High Lifter springs
26-11-12 Sedona Ripsaws on rear
26-9-12 Sedona Ripsaws on front
Douglas Rattlesnake rims
3rd Headlight switch
Moose Heated Handgrips and thumb warmer
Replaced the stock silver engine covers and front skid plate with 07 camo black and painted front brush guard black

2005 Rancher 350ES 2wd
Administrator
Join Date: Aug 2007
Location: south dakota
Posts: 12,401
Highlifter had one in the past. I'm not sure if they still do or not.
---
2007 420FM (475cc, 27x12x12 Mudbugs) ---------- 1995 300FW (webcamshaft, 350 rear end)
2008 420FE (26x9x12 BearClaws) ------------------- 1988 300 (old stock machine, nothing fancy)
2009 420FA (25x8/10x12 BearClaw HTR) --------- 1987 350D (work in progress)


Honda Rider
Join Date: Jan 2013
Posts: 6
mine has a kit on there to lift it up about 4 inches ill take pictures and post them if you still need it
can you post a pic i would like to see that

thank you
---
1999 foreman 450 es


HMF pipe
carb mod
putting 2 in lift and maybe bigger tires
yea me too .i kinda gave up i was able to cut my plywood to get my snorkel just barely under it .
---
2003 foreman 450
26" itp 589's
high lifter springs
2" snorkel
145 jet
pos pipe
terra 3500 super winch syn rope
rear rack ammo cans and cooler
front rack 4 speaker sound system

1997 Kodiak 400
26" Mudlites

1988 Fourtrax 300 2x4
25" Triclaws
engine has never been worked on
Honda Rider
Join Date: Jan 2013
Posts: 6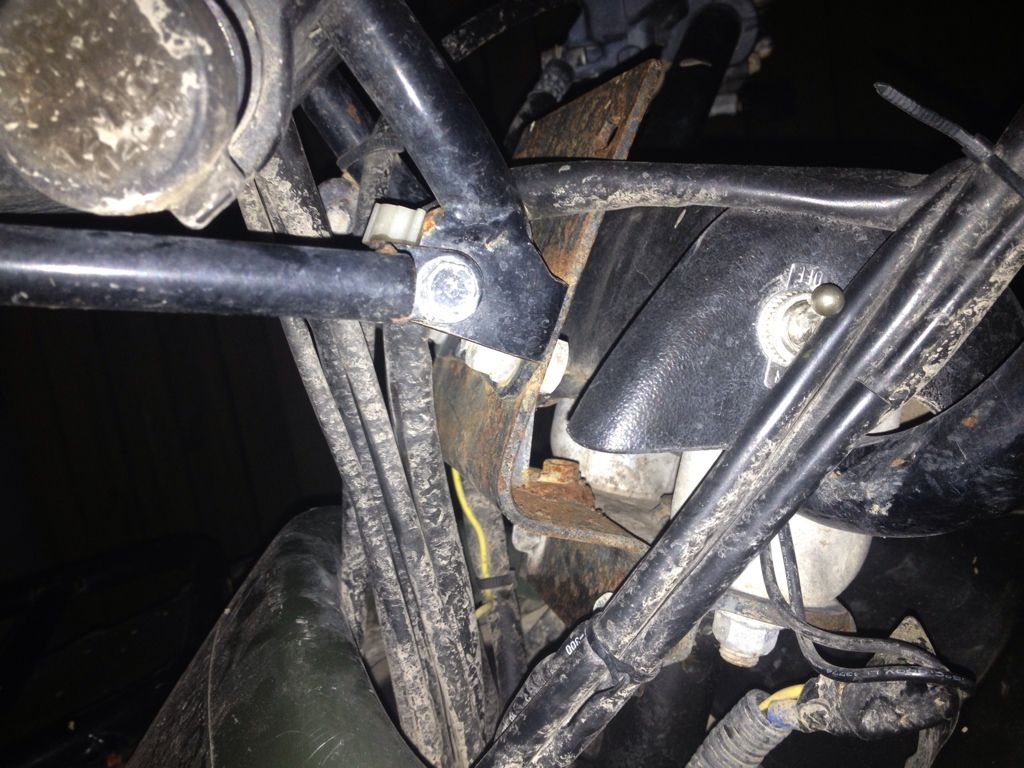 rite on it looks so ez to do i thought of something like that but didnt know if it would work

now i know what to do

Thanks alot
---
1999 foreman 450 es


HMF pipe
carb mod
putting 2 in lift and maybe bigger tires
Honda Rider
Join Date: Jan 2013
Posts: 6
Yeah just take a plate like that in an s shape and you can leave the top half long and you can just mount the light as high as possible without extending the wires that's how mine is done