Honda Rider
Join Date: Dec 2012
Location: NY
Posts: 40
Wheel/tires
---
I was looking at getting a set of wheels and tires for my 01 Forman, I believe they're 4/110? How big of a tire will fit with a 2 inch lift? I'm looking for a tire similar to maxis zilla. How much ground clearance will I gain per inch of diameter? I would guess its close to 1/2 an inch per inch of tire, but im not sure. I am mainly looking to gain as much ground clearance as possible, I ride in really rough terrain and with stock tires I get hung up in mud and riding over trees when I have to. Is there anything besides tires and a lift that would give me extra clearance? Also how do the from CVs handle larger tires?
1) yes
2)29.5 if you trim the running boards a little
3) look at mud bugs
4) 1/2in heighth for every 1 in taller tire
5)yes , longer shocks and the lift
6) with a 2in lift you will tear up axles if you hammer on ir
---
2000 foreman 450 es-s
the f**king pig
SOLD
yellow 2003Rubicon all stock and gona stay that way !!!!
red 2000 foreman 450es
1990 Honda 300 4x4 blue stock with plow
friend me on facebook
https://www.facebook.com/richard.chayer.5
i love (.)(.)s
Honda Rider
Join Date: Dec 2012
Location: NY
Posts: 40
Any recommendations on wheels? How much will the shocks lift it? I'm looking to try to get as close to 11 as possible(I know that's probably a big stretch) my buddy's cat has 11 and he has no problems riding where I do
Honda Rider
Join Date: Dec 2012
Location: NY
Posts: 40
Also as far as rim offsets, what do I need to look for in both front and rear? How big of a tire can I stick on the stock steels? The stocks are 25x8x12 and 25x10x12.
---
Last edited by jeff418; 02-16-2013 at

10:04 PM

.
I had itp SS 312's and 28" Zillas with a 2" Extreme lift no scrub and turned them fine.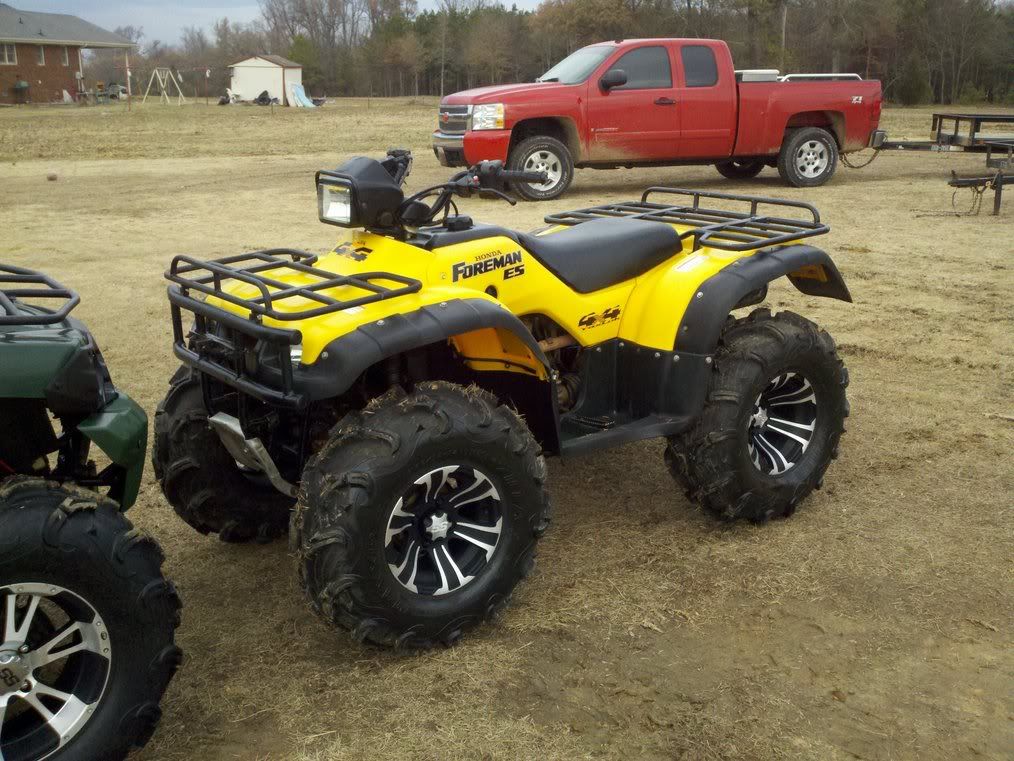 Honda Rider
Join Date: Dec 2012
Location: NY
Posts: 40
Nice I like the rims. Do the rear rub? What kind of clearance do you have under the rear axle? Mine stock is roughly 7 3/4. Are far as offsets I read 5-2 and 2-5? Or something like that.
its got clearance everywhere no rubbing, im not sure of the ground clearance because I sold that bike. I just got the wheels for a foreman 450 or straight axle so not sure of the off set
Honda Rider
Join Date: Dec 2012
Location: NY
Posts: 40
What is the biggest tire i can run without a gear reduction? How was the steering with the 28s on it?
steering wont much harder then stock, it really depends on type and weight of tire. I think the 28 zillas were a good set up
Honda Rider
Join Date: Nov 2012
Posts: 72
I didn't have to trim my floor boards to run my 29.5's with a 2 inch lift.